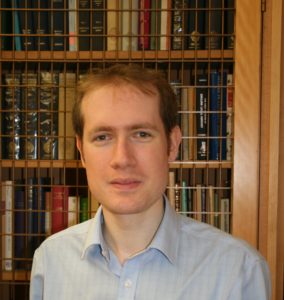 Hello! I'm Daniel Sawyer, a medievalist. I'm currently the postdoc attached to the 'Towards a New Edition of the Wycliffite Bible' project in Oxford's English Faculty, and a Junior Research Fellow at Corpus Christi College, Oxford.
I'm interested in quantitative and qualitative codicology, textual criticism and the history of reading; and interested in ways in which these three subfields can usefully inform each other.
I've published on unnoticed Middle English poetry, rediscovered manuscript fragments and navigation in medieval reading. I have a monograph project in progress which will revise our history of the reading of verse in later medieval England.
Pedagogically, I specialise in teaching later medieval English literature, although I've taught in a variety of contexts across a wide range of literature from medieval Britain, from The Dream of the Rood and Geoffrey of Monmouth to T. H. White.
On this site you can find details of my research and my career, a list of my publications and conference papers, a brief summary of my teaching experience and my blog, which mixes reports on my work with practical notes and reflections on wider questions for the study of medieval books.
Contact Details
Email: daniel [dot] sawyer [at-sign] ell.ox.ac.uk
Twitter: @DE_Sawyer
Academia.edu: Daniel Sawyer
Address: Room 121, St Cross Building, Manor Road, Oxford, OX1 3UL